Pets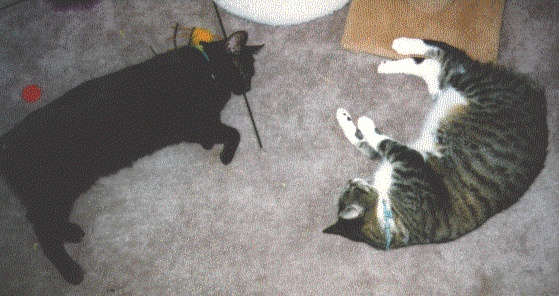 Comparative posing: Sprite & Bibette.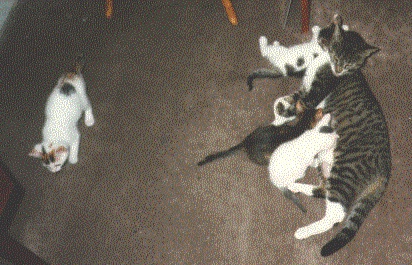 I rescued Bibs & her 6 kittens from a neighbor's basement.
All were placed in homes by Alliance for Animals (where I'm the webmaster).
Listen to some of Bibs' unique vocal stylings!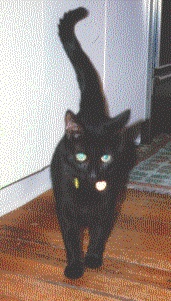 Sprite is a slinky thing we rescued from our yard.
Sprite and Bibs see doctors at Fresh Pond Animal Hospital in Belmont.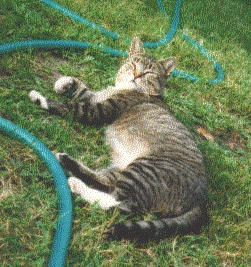 Bob is a feral who lives a small house we built for him in our yard, with plans from Alley Cat Allies.
He'll come in the house to eat, but gets nervous after he's cleaned his bowl.
Please support Trap, Neuter and Release (TNR) for humane control of feral populations! Another organization for ferals is The Ferral Cat Coalition, which also has copies of the shelter plans.
(NOTE! I noticed that the slope on the top of the windblock in the plans is too steep (the short side needs to be longer than 12"), and instead I traced it from the slope on the side pannels).
When Bob needs veterinary care, he goes to the Mill Brook Animal Clinic in Arlington.
a few more photos of Sprite and Bob
---
Pets Past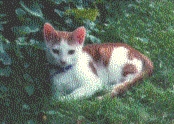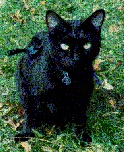 Spiff & Clytie
---
Childhood Pets
Lady Samantha the 3rd.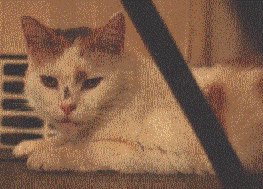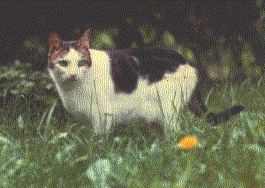 Pandora & Leonardo
---
Phil Budne